Booking a Disney World Vacation With Points: My Experience
A family vacation to Disney World in Orlando FL can be very expensive. I can certainly vouch for that as I have a trip planned for this upcoming Spring. In this post, I'll show you how I reduced my out-of-pocket cost by over 90% using points and benefits I've earned from having various credit cards.
There's a lot to cover in this post, so forgive the length. I have a family of 5 spread out over 2 home airports, we're starting at one hotel then moving to another, and we'll be visiting the Disney Parks as well as a side-trip to Universal Studios. That's a lot of moving parts, so lets get started.
Background
For this trip I'm using a combination of:
So far, I've booked 5 round trip flights to Orlando, 2 rooms for 6 nights at very nice Disney hotels, 4 day Park-Hopper passes for all 5 of us, as well as 5 Universal Studios Park-to-Park tickets for 1 day.
Had I paid for this with cash only, the total would be about $8,300. That makes my head spin. Fortunately for me, my total cash out of pocket: about $800–that's a savings of over $7,500 or more than 90%! 
If that doesn't grab your attention, I don't know what will. Most of that $800 is the Universal Studios passes, for which I paid nearly full price. Take those away and I'm only out about $50.
Flights
For my Delta Airlines flights from New York's LaGuardia Airport (LGA) to Orlando (MCO), I used a combination of Miles, Delta Gift Certificates, cash and an American Express Airline Incidental Credit.
At the time I booked, the r/t airfare was about $270pp. Not great, but good enough and the arrival/departure times fit my schedule perfectly. Breaking that out into 2 one-way fares it was:
$160pp from LGA to MCO and
$110pp for the return
OR 10,000 Delta SkyMiles each way.
Since I had a surplus of Delta SkyMiles that I earned from the signup bonus on my American Express Delta Gold credit card, I used 40,000 Miles + $22 taxes for 4 one-way tickets to MCO. I charged the taxes to my Chase Sapphire Reserve card for its superior travel insurance benefits.
Since we're all Amex Platinum Card Members, while at LGA we'll visit either the Centurion Lounge or the Delta SkyClub while we wait for our flight.
The return flight was cheaper and, to me, not a good use of SkyMiles. Plus, I had $300 worth of Delta eGift Certificates that had previously been reimbursed via Amex Airline Incidental Credits from prior Platinum and PRG cards. I purchased the return tickets using the GCs and charged the balance to my new American Express Platinum Card, which was reimbursed by by the same credits.
The 5th family member is traveling round trip from Philadelphia and I purchased that ticket on Chase's Ultimate Rewards (UR) website. Since I have the Sapphire Reserve, each of my UR points are worth $0.015 towards travel. I was able to purchase that $217 round trip flight for 14,466 UR points.
Before our return flight from MCO, we plan to visit The Club MCO, a Priority Pass lounge, using my membership from the Chase Sapphire Reserve card.
Hotels
Our entire party is arriving in Orlando in the evening. My original idea was to use Hyatt points to stay one night at the Hyatt Regency Orlando Airport, and rent a car the following morning to drive to Disney World. My plans for our first night have changed–I'll go into that in a bit.
For the remaining 5 nights of the trip, I booked 2 rooms at the Walt Disney World Swan hotel. Both the Swan and Dolphin hotels are owned by Starwood (now Marriott) and can be booked using SPG Starpoints. The location is fabulous–you can walk to Epcot and Hollywood Studios. They are not official Disney properties but they include many of the same benefits:
Extra Magic Hours – Each day one of the four Walt Disney World Theme Parks opens an hour early or stays open up to two hours later for guests to enjoy select attractions.
Complimentary shuttle bus transportation to Disney Theme Parks and Attractions, including water taxis to Epcot and Hollywood Studios.
Disney's FastPass+ – the ability to reserve select attractions 60 days in advance.
Complimentary parking at Walt Disney World Theme Parks.
On site character dining in Garden Grove (located in the Swan)
The Disney Dolphin is only 10,000 Starpoints per night and the Swan hotel is 12,000-16,000 depending on the season. Both are eligible for a 5th night free discount, which I took advantage of. I chose the Swan for it's quieter atmosphere, slightly larger standard rooms, and second sink outside the bathroom.
2 standard rooms for 5 nights (including the 5th night free discount) cost me 96,000 SPG Starpoints. The refundable rate for World of Hyatt members was $317 per night including taxes. I saved nearly $3,200 by using Starpoints instead of cash.
Be aware that both these hotels tack on the ever-annoying "resort fee" of $32 per room per night. There's also a $20 per night fee for self-parking.
Hotel Plans for the First Night
Recall that my original plans were to stay at an airport hotel the first night. I thought better of that for a couple of reasons: cost savings and the ability to use points to pay for theme park tickets. I booked a package of 2 rooms for only one night at Animal Kingdom Lodge (AKL)–a Disney owned property, and five 4-day Disney park-hopper passes. All of this was paid for using Chase Ultimate Rewards points.
Cost Savings
There are a few benefits to staying at an Official Walt Disney World hotel that are not offered by the Swan or Dolphin:
Disney Magical Express complimentary transportation (between airport and resort)
Free Disney Magic Bands – You use these wrist bands instead of park tickets (normally $13 each)
Charging to your room throughout Walt Disney World
By staying just one night at AKL (or any Disney owned hotel), we get complimentary transportation from the airport. Without this, I would have likely rented an SUV for the week, so I save on that cost (about $250) AND the self-parking fee at the Swan (another $100). Because we're only staying at AKL for one night, we have to provide our own transportation back to the airport at the end of our stay. I plan on renting a car for our last day to get to Universal Studios and the airport for our flights home.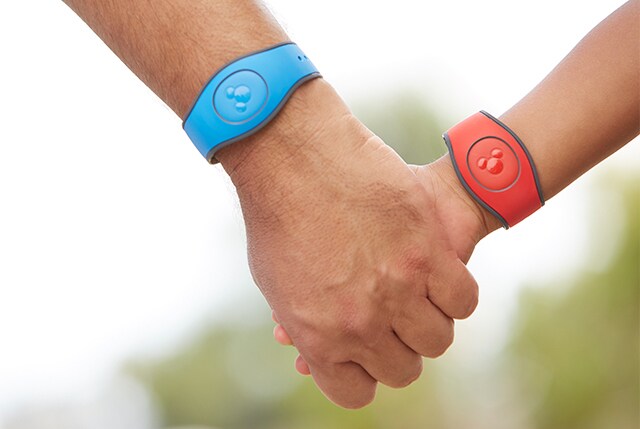 The Magic Bands aren't really necessary, you can do everything in the parks without them. But they are convenient and make a nice memento, so I had planned on buying them anyway. For that reason, I decided to include them in my cost savings (5 x $13 = $65).
The last time our family went to Walt Disney World, we stayed at AKL and absolutely loved it. To be sure, I could have chosen a less expensive hotel for just one night and gotten all the same cash savings. Alas, I couldn't resist. While we visit the parks on day 1, Disney will move our luggage from AKL to the Swan Hotel. We'll check in there later in the day.
All these cost-saving reasons are why it made sense to stay onsite for the first night rather than at an airport hotel. Then it got even better. I found out how I could pay for the Disney park tickets with points!
Booking Disney Package with Chase Ultimate Rewards
Finding out that Chase had a Cruise and Tour Department was a game changer. I now realized that I could book this entire piece of the trip using Ultimate Rewards points. I first priced out the package on Disney's website. 2 standard rooms for only 1 night at AKL and 4-day park hopper tickets for the 5 of us priced out at right around $3160. Ouch! Welcome to Walt Disney World. The park tickets alone were over $2,200. Now that I knew what Disney would charge, I could call Chase armed with all the information and pricing I needed.
If you have the Sapphire Preferred or Ink Business Preferred, your Ultimate Rewards points are worth $0.0125 towards travel. With the Sapphire Reserve, they are each worth $0.015. I have the Reserve, so this package costs 210,666 UR points (the math is $3160/$0.015). I know that's a lot of points but signup bonuses and 5x UR earning on Freedom and Ink Cash adds up quickly. If you don't have enough UR points to cover your entire package, you can pay cash for the balance.
I called Chase Ultimate Rewards Travel at 1-855-234-2542 and asked for the Cruise and Tour Package desk.  Candice, the travel rep, took all my information, she'd clearly done this before. She put me on brief hold while she called Funjet Vacations (that's who Chase outsources their Disney packages to).
Within a few minutes, I was all booked and the UR points (matching my expectation) were deducted from my account. A few hours later, I received confirmation emails including my Disney reservation number. That reservation number is required to set up dining reservations, order the free Magic Bands, make FastPass+ reservations, and arrange transportation. It couldn't have been easier.
Weeks later, I noticed that the room price for Animal Kingdom Lodge had dropped by 20% for the dates of my stay. I called the Chase travel desk, they confirmed the lower price with Funjet Vacations who will mail me a check for the price difference. That was an easy $165 phone call.
Universal Studios Tickets
As I mentioned above, here is where I've actually spent some cash. My family really wants to see the Harry Potter exhibits which span the 2 parks, so we need the more expensive Park-to-Park option. The cost of each 1 day ticket: $170. Ouch again! There were really no discounts to be found for 1-day Universal Studios park tickets.
If you frequent my blog, you know I love Amex Offers. On 5 of my American Express cards, I had offers for $20 back after spending $100 at Undercover Tourist. Undercover Tourist is a reputable online travel agent that offers discount tickets and hotel packages to the Walt Disney World Resort and Universal Orlando Resort. I saved a total of $100 by charging each ticket to a separate Amex card with the offer loaded.
You can also use signup bonuses and "miles" earned from Barclay's Arrival Plus and/or Capital One Venture to cover the cost of these tickets if you purchase them via a travel agent like Undercover Tourist. That was my original plan but unfortunately, I was declined for each of those for having too many other recent credit cards opened.
Summing Up
I know I used a large number of points for this trip, but I've been planning ahead and stock-piling accordingly. The SPG Starpoints come largely from my SPG Amex 35,000 signup bonus (increased offer at the time I applied) and 25,000 for my wife's card (family members can pool points into one account). I got another 7500 points when I referred her and another 7500 as a retention offer from American Express. I've also had some Westin hotel stays where I earned SPG loyalty points the old fashioned way.
Between various Chase Sapphire and Ink Business cards, my wife and I have gotten about 230,000 in signup bonuses over the last year and a half. I'm always mindful of spending with the correct card for category bonuses, so we maximize our points earning. Running a business with expenses helps. Finally, the American Express Delta Gold card signup bonus was 60,000 when I applied. I still have points left over from that one.
We'll still have plenty to pay for when we get to Orlando–restaurants in Walt Disney World aren't cheap. Thankfully most of the big expenses have been covered by points.
Leave me a comment below if you have any questions or suggestions on how to save money on food.
HT: Reddit user nuhertz who pointed me in the right direction with the Ultimate Rewards package booking.